Contact
team@
thedropbearcollective
.com
The Drop Bear Collective
The Drop Bear Collective was founded in mid 2017 in Newcastle, NSW Australia, by Paul to showcase his interactive Digital Business cards (DBCs), which are now also fondly referred to as Drop Bear Cards (DBCs) or Drop Cards for short.
It is thought by some that Drop Bears are not actually part of the bear family (Ursidae) but are in fact related to the Koala (Phascolarctos cinereus - an arboreal, herbivorous marsupial native to Australia). Koalas are also confusingly and inaccurately sometimes referred to as Koala Bears.
Paul wanted to start an organisation to give like-minded individuals (or Bears if you will) the opportunity to join forces and showcase their great ideas, movements, etc. There is no collective noun for a group of Koalas or Drop Bears as they don't move around in groups and tend to be fairly solitary. Hence, the term "collective" seemed a good fit and gave birth to the name: The Drop Bear Collective
interactive Digital Business Cards
Increasing Your Connections In A Digital World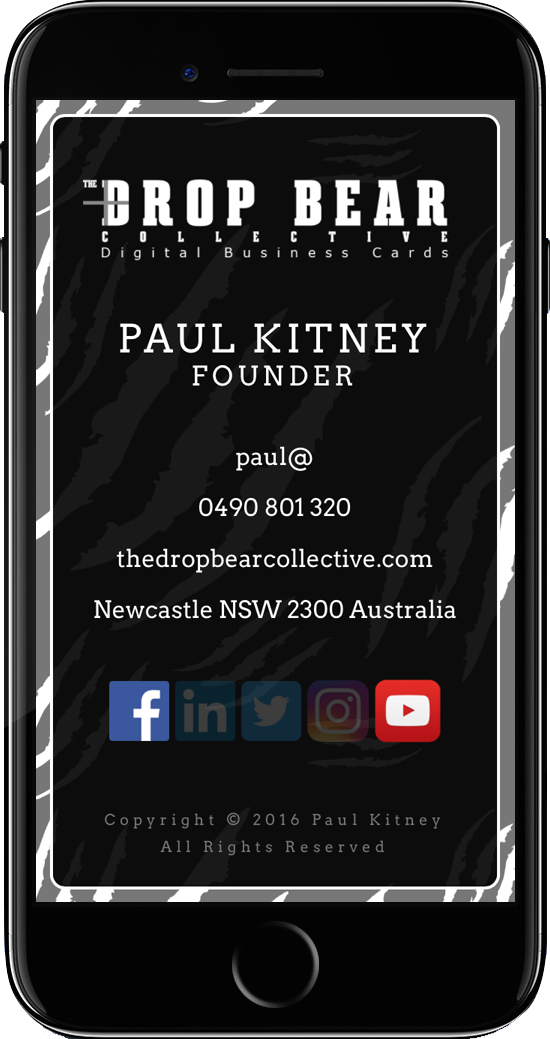 iDBCs - your business card on your phone
Paper cards are great. This is an additional business tool to complement them.
They are Unforgettable - use your phone or your personalised URL.
They can Reduce Your Printing Costs - Financial / Environmental.
They are Sharable & Updatable - text, email, etc & no more out-of-date cards.
They are a great Icebreaker / Point Of Interest when you meet someone.
Your info is Easy Info (can be Saved To Contacts, so no typing or typos).
Get Their Information when you share yours (Priceless).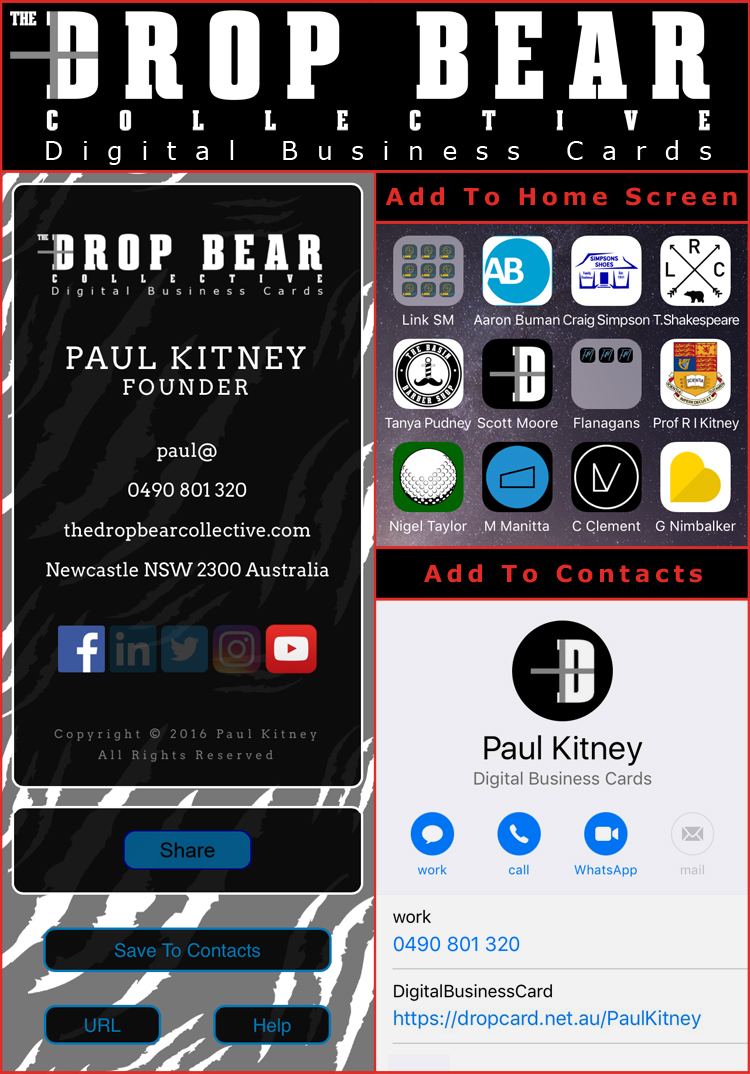 Designed for Safari on iPhone, Chrome on Android, and perform well outside of these e.g. laptops etc.
Improve your business with a custom-made, branded, updatable, sharable, interactive Digital Business Card
Has this happened to you?
Arrived at a meeting, conference or convention and realised you've forgotten your paper business cards.
Met that contact you've always wanted but it's a weekend and you don't have your paper business card.
Given a card to someone and not got their card in return.
Got to the end of a conference or convention and realised you have no idea who you gave your business cards to - despite giving out hundreds of cards.
Would you like to?
Not have to carry paper business cards with you all the time - home or abroad.
Enable your staff to give out your business card when needed without prior planning.
Access and share your information regularly and quickly, and enable others to do the same.
Easily update your existing business card - no more boxes of obsolete paper cards in the bin.
Get more from your business card - directions to your office etc.
Make it easy for the recipients of your card to contact you and/or save your details. Get a recipient's information when you give them your business card - priceless!
Standout with a custom-made, branded, updatable, sharable, interactive Digital Business Card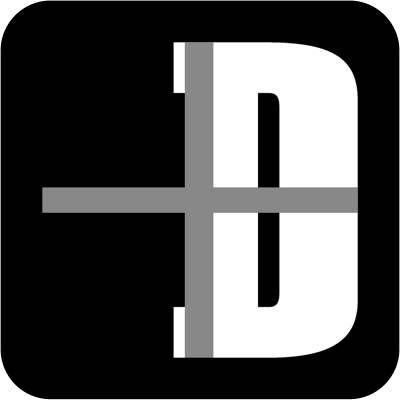 interactive Digital Business Cards
Making It Easy and Simple for People to Share Their Branded and Current Details